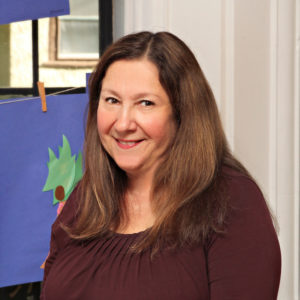 Sue Gaertner is thrilled to say that she is in her seventeenth year as director of TCNS!  She is also the lead teacher in the 3-year-old morning class.  Sue earned her teaching degree from the University of Illinois at Champaign-Urbana. Prior to joining TCNS, Sue was the preschool coordinator at Skokie Park District.  She also taught first and second grade, but her true love is preschool!
Sue's high-energy style of leadership is noticed in all that she does.  She is constantly striving to improve the school and incorporate the latest in educational practice.  For example, she recently added yoga instruction to the Kindergarten Enrichment program.  Her warmth and support motivate the staff to strive for excellence.
Sue's three children are products of Wilmette School District 39, where she was an active volunteer.  She is on the executive board of a non-profit dedicated to helping families facing the tragedy of a child with cancer.  Sue is devoted to TCNS and loves giving tours of the school! Contact her at sue@trinitywilmette.org to request one.