Developing Imaginations & Foundations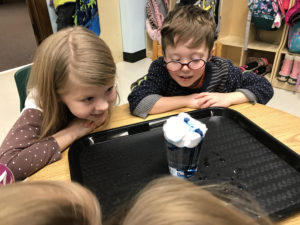 Trinity Church Nursery School serves children ages 2-years-old through kindergarten. As a play-based preschool, Trinity's primary goals are promoting social-emotional development and a positive sense of self. This includes treating each other with kindness and respect, learning to manage intense feelings, learning to recognize and respond to the feelings of others, and knowing that all children are cherished – exactly as they are.
Trinity strives to create a classroom community in which every child feels loved, respected and valued for the precious, unique individuals they are.
Trinity believes that children learn best when they are actively engaged in meaningful, developmentally appropriate activities.  The programs offer a delightful blend of free choice and structure. Materials are age appropriate for each class and invite exploration and discovery.
The nurturing teachers facilitate the growth of relationships.  They plan activities and create a school environment that promotes imaginative play, learning and fun!  The staff scaffolds learning to encourage child development in the areas of speech and language, fine and gross motor skills and cognitive development.  Trinity aims to make sure that each day includes activities that promote development in these domains.
Assessment is an important piece of the learning process since the teachers want to make sure each child is appropriately challenged and encouraged to try the untried in a safe and loving setting.  Modifying the program to meet the individual needs of each child is an important attribute of Trinity's programs.
The school's mission is to provide a safe and stimulating environment in which children may play, learn, grow and flourish in body, mind and spirit.