The 3-year-old classes are held on Mondays, Wednesdays and Fridays from 9-11:30 a.m. or Mondays, Wednesdays and Thursdays from 12:30-3 p.m.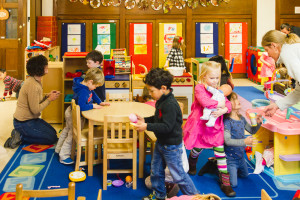 There are up to 20 students in the 3-year-old morning and afternoon classes.  Each class has one teacher and two assistant teachers.
As a play-based preschool, Trinity believes that children learn best when they are actively engaged in fun, meaningful activities. Within that free play, teachers create a variety of learning centers to achieve social, emotional and educational results, including academic goals. 
In the 3-year-old classes, the classroom schedule includes free play, two rug times with stories and songs, art projects, hands-on learning opportunities and gross motor play spaces indoors and outdoors.  
During rug time, the daily job chart is a highlight for the students as they learn their letters, how to recognize each other's names and all about classroom responsibilities. Every week a Music and Movement specialist comes to the class during rug time, so the children get to sing, clap and dance along as they work on coordination and gross motor skills.  Plus, Spanish is woven into the classroom routine through numbers, colors and songs, and the children have the opportunity to partake in science experiments throughout the year. 
Some of the themes introduced in the 3-year-old curriculum are nutrition, the polar regions and spring time.
Children must be 3-years-old by September 1st to apply for the 3-year-old program.  Children enrolled in a 3-year-old class are guaranteed a spot in one of TCNS's 4-year-old classes.