The 4-year-old classes are held on Tuesday through Friday from 9-11:30 a.m. or Monday through Thursday from 12:30-3 p.m.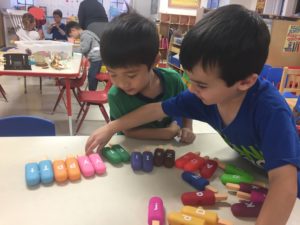 There are up to 20 students in the 4-year-old morning and afternoon classes.  Each class has three teachers, plus an academic readiness specialist. One of the teachers is fluent in Spanish and incorporates Spanish into the daily classroom routine, including rug time and Spanish center lessons. 
As a play-based preschool, Trinity believes that children learn best when they are actively engaged in fun, meaningful activities. Within that free play, teachers create a variety of learning centers to achieve social, emotional and educational results, including academic goals. 
In the 4-year-old classes, Trinity teaches children the skillsets they need to succeed in kindergarten — from letters and numbers to following directions and participating during rug time.  Also, using play-based materials, the academic readiness specialist works with individuals and small groups to further enhance learning.
Every week the children get to sing, clap and dance along in their Music and Movement class that helps develop gross motor skills and coordination. 
And throughout the school year, a dedicated science specialist engages the children in hands-on science experiments that capitalize on their natural curiosity about the world around them.
In addition, the 4-year-old curriculum is organized around themes such as insects, art history, Medieval times, outer space and more. 
Children must be 4-years-old by September 1st to apply for the 4-year-old program.  Children enrolled in the 4-year-old program are guaranteed a spot in one of TCNS's Kindergarten Enrichment classes.