Afternoon Kindergarten Enrichment meets on Tuesdays and Fridays from 11:15 a.m.-3 p.m. and includes a lunch time. There is the option to add Mondays as a third day.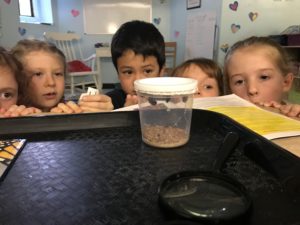 There are up to 20 students in the program and it is led by two teachers. 
As a play-based preschool, Trinity believes that children learn best when they are actively engaged in fun, meaningful activities.  Within that free play, teachers create a variety of learning centers to achieve social, emotional and educational results, including academic goals. 
Trinity's Kindergarten Enrichment program is designed to be an experience that truly expands upon the learning already taking place in D39 kindergartens.  Teachers plan lessons with the intention of complementing and extending D39's instruction, rather than repeating it.
While adhering to the same core kindergarten standards used by D39, teachers also leave opportunity for students to influence areas of the curriculum.  Teachers observe the children's play during free choice and on the playground to pick up on threads of interest to integrate into lessons. Examples include a cross-curricular study of earthworms as well as paper airplane flight.
STEAM concepts (science, technology, engineering, the arts and mathematics) are integrated into the children's daily work as they explore topics such as sound, weather, light, color, architecture and more.  Students are encouraged to be avid questioners and observers of the world around them. The teachers design lessons so that concepts are built through experiences as students tackle a unit of study from a variety of angles. 
Literacy is a large focus in K.E., with the students participating in daily read-aloud sessions and literature discussions. In addition to looking for basic comprehension, teachers encourage students to stretch their minds into the realm of critical thinking while engaging in literature.  Teachers use the same phonics system used in D39 kindergartens so that students have a common reference point when recalling letter sounds and blends.
In addition, kindergartners have the unique opportunity to partake in yoga through the Radiant Child program. Music and movement is also integrated into the daily curriculum, which helps develop gross motor skills and coordination. 
Children must be enrolled in a local school district kindergarten program to apply for the class.  Current Trinity students have priority in registration.  
For information about Trinity's morning Kindergarten Enrichment program, please contact Meghan MacKinnon, TCNS Administrator, at meghan@trinitywilmette.org.