The Parent-Tot Class is held on Mondays from 9-10:30 a.m.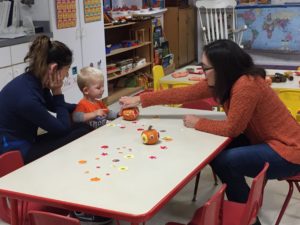 There are 12 students in the class, who attend with a parent or a caregiver, and it is led by a teacher and an assistant teacher. For Parent-Tot students who have older or younger siblings home during the class time, free babysitting is provided for them in a nearby playroom.  
In the Parent-Tot class, teachers and parents play, read and create alongside the children as they introduce the younger 2-year-olds to the classroom setting and the structure of the preschool day.  
The classroom routine includes free play and rug time, with a story and songs.  Twice a month, a music specialist comes to sing and dance with the children during rug time.  The curriculum also includes color-themed months, parachute time and gross motor play either indoors or outdoors. 
Beginning in January, parents may try dropping off their child at the class, if both the parents and the teacher agree the child is ready for an "on my own" preschool experience. When students begin attending Parent-Tot without their parents, the class is led by a teacher and three assistant teachers. 
Children must be 2-years-old by November 1st to apply for the Parent-Tot Class.  Children enrolled in Parent-Tot are guaranteed a spot in one of TCNS's 3-year-old classes.