Ready Two Grow is held on Tuesdays and Thursdays from 9:15-11:15 a.m.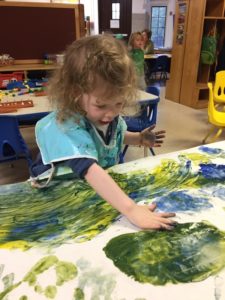 There are 18 students in the class and it is led by two lead teachers and three assistant teachers. Ready Two Grow is a program for older 2-year-olds and is designed for children who show a readiness for school without parent accompaniment.
As a play-based preschool, Trinity believes that children learn best when they are actively engaged in fun, meaningful activities. Within that free play, teachers create a variety of learning centers to achieve social, emotional and educational results, including academic goals. 
The format of the class is free play mixed with teacher and peer interaction.  It includes rug time with a story and songs, as well as art, hands-on learning and gross motor play.  Twice a month, a music specialist comes to sing and dance with the children during rug time.  The curriculum also includes "color" days and themed units that appeal to their age range, such as modes of transportation, dinosaurs and spring time. 
Children must be 2-years-old by April 1st to apply for Ready Two Grow and do not need to be toilet trained.  Children enrolled in Ready Two Grow are guaranteed a spot in one of TCNS's 3-year-old classes.