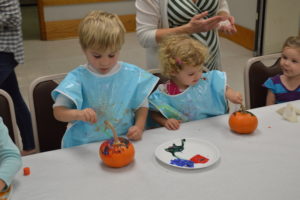 From November through March, Trinity hosts monthly "Gives Back" events where the children create crafts for people in nursing homes and rehabilitation centers in the area.
Each event has a different type of project for the kids to work on and is followed by a book being read aloud that encapsulates the theme of the month. The children also go caroling at several local retirement communities to bring holiday cheer to the residents.
Following are the dates and projects for the remaining Gives Back events in the 2017-18 school year:
Wednesday, Dec. 6 from 4:15-5:15 p.m.: Gingerbread house decorating for local nursing homes and retirement communities.  R.S.V.P. required.
Tuesday, Dec. 12 at 4 p.m.: Trinity carolers bring cheer to the Sisters of Sacred Heart Convent
Wednesday, Dec. 20 at 4:30 p.m.: Trinity carolers bring cheer to the residents of Mather Place
Monday, Jan. 15 through Thursday, Jan. 18: Share Our Spare Drive at Trinity
Thursday, Jan. 18 from 4:15-5:15 p.m.:  Create snowman dolls and other crafts for the residents of Citadel Nursing Home
Tuesday, Jan. 23: Moms, join us for a night out at Share in Wilmette to help assemble kits from from the goods collected during the Share Our Spare drive
Monday, Feb. 5 from 4:15-5:15 p.m.: Create valentines and valentine crafts for the children's floor at the Rehabilitation Institute of Chicago and Fill A Heart for Kids
Thursday, March 15 from 4:15-5:15 p.m.: Spring craft making for the children's floor at the Rehabilitation Institute of Chicago
Monday, March 19: Live children's theatre performance to kick off Trinity's book drive benefitting Bernie's Book Bank